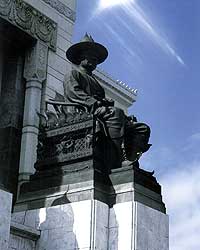 If anyone could be called the father of modern Thai art, it would be Silpa Bhirasi (1893 – 1962), a young Florentine sculptor named Corrado Feroci, who was selected by the Siamese government to help promote nationalism. Since the reign of King Rama IV, western civilization had become the standard symbol of modernization. It was hoped that Siam would have the ability to stand equally, with pride, amongst developed countries. During the reign of Rama VI, a policy was issued, that statues of Siam's great Kings and heroes be erected to promote a sense of national identity and used as a tool for the peoples' memory.
The task of building these monuments brought the young Corrado Feroci from his motherland and into a new life which would later see him change his nationality and acquire a Thai name – Silpa Bhirasi. During the time that Bhirasi studied and taught at 'The Royal Academy of Fine Arts of Florence' (1916 – 23), and while serving the Siamese government (1923 – 37), fascism and nationalism were on the rise in both Thailand and Italy.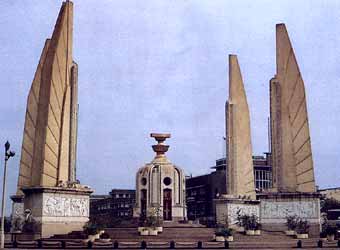 Among his major public sculptures and monuments are the panels for the base of the Democracy Monument on Ratchadamnoern Avenue, the monument of King Rama VI in front of Lumphini Park, the statue of King Rama I and the monument of King Naresuan the Great in Suphanburi. Many monuments created by Silpa Bhirasi in the move to modernize Thai society, eventually turned into objects of popular public worship. They include: the monument of King Thaksin at Wong Wian Yai in Thonburi, the Phra Kru Ba Srivichai monument in Chiang Mai and the monument of Thao Suranaree in Nakhorn Ratchasima. Not all his works of art were admired and some were criticized as being fascist-like. Yet however they are judged, it can not be denied that his works brought about a tremendous change in the history of modern Thai art.
He had close intimate contact with FM Por Pibulsongkram who recognized the need to foster patriotism for a new country after the overthrow of absolute monarchy in 1932. Bhirasi contributed immensely to Thai society, more than just a sculptor. Under his guidance, he opened Thailand's first art university – Silpakorn, which became the center of the country's art. Many of his students went on to be awarded the honored title of 'National Artist of Thailand'. Though Bhirasi did not introduce modern art to Thailand, his influence on the ideas, attitudes, style and knowledge of modern art, as well as love and passion for teaching, earned him the name –"The Father of Modern Thai Art".
He continued to work as a dean of Silpakorn University until his death in 1962.