While the rest of the bloggers here have enjoyed giving us all the insights into politics and religious beliefs I thought I would turn the attention of the readers to something completely different, and that is Thailand's Love of Sports!
Thailand may be famed for it's temples, beaches, cuisine or go-go bars but one thing it certainly exactly famed for, is its sporting stars!! Ok, let's admit it, Thailand isn't that bad in comparison to most other countries in South East Asia, and this year Thailand's sporting media were up in arms at NOT coming out tops at this year's SEA Games in Manilla. What a ghastly plausible ending! Suffice to say, The Philippines won, and Thailand's sporting ambassadors had no other excuse but "The cheating Filipinos, they scammed us – we were far better!" While great sporting events are meant to have connotations such as 'harmony', 'friendship' and 'fun' it seems that SEA countries see such a gathering as a great opportunity to let off a bit of steam and start a war of war in lambasting each other 'A thieving bunch of cheats!!
Even a little Commie country like Laos has been slammed 'cheats' before, and at the under 18 Football championships a few years back this little Leninist state certainly lived up to their title. Live on TV was the first game, something like Laos vs Malaysia (wow…..enthralling stuff!) Running out on to the pitch came the Laotian stars, half of them 6 foot tall and sporting a handsome….beard! When scoring a goal, the TV camera beams in on the families of the Laotian stars and cheering in the stands seems to look like the wives of the players! What a complete shambles! The SEA footballing authorities were soon making an investigation into the actual ages of the Laotian under 18 players! Any investigation didn't go very far anyway, as after the second game, is was pretty apparent that the Lao players were darned dismal and got booted out at the first stage!
As for the Malaysians, they're no better and I remember a few years back when their entire national football league was disbanded half way through the season after it was found out that literally every single team player was earning some back-hander extra money by intentionally…… trying to kick the ball into his own net!
Since Thailand doesn't exactly have too many of its own stars, the ones who do have any kind of success are suddenly at the center of the media attention and soon being cast to star in a half a dozen TV commercials, political party election campaigns and their private lives are the intrigue of every Thai tabloid! A prime example of this is Thailand's very own not so-groovy tennis star a certain…Mr Paradon Srichapan. Just when it looks like he could jump into the world's top ten our sporting hero is soon spending more time in the make-up dept of TV studios than actually on the training court! Adhering to the Buddhist philosophy of 'living for today' Paradon was living the life of a true star and making as much cash as heavenly possible in regards to advertising, in the shortest possible time.
Not just plastering himself all over the TV screens, Mr Paradon was soon taking advantage of his star status by dating as many lovely different ladies as he could morally get away with. Paradon had even got in with another star 'Tata Young' before it came to the attention of the media that Paradon's mother had little to say about the singing star but, "A girl like that (Tata) isn't good enough for my wonderful son – I will do my best to help him find a respectable girlfriend!" May be 'mum' is eating her words' now, after Paradon dismally fell from number 10 in the world to number 60 in the space of a couple of years while Tata Young has evolved into a true Asian superstar!
Howabout Thailand's boxing superstars!? As for the Olympic gold medal boxing stars they are renowned for one thing, and that is completely blowing all their earnings on girls and gambling! Thailand's first ever gold medal winner Mr Somluck is making a living as a TV comedian these days after he admitted that he blew away tens of millions of baht! Then just a few weeks ago, the wife of Mr Manas a Gold Medal Boxing Star at the Athens Olympics, told in tears to the Thai press that her husband had lost all his ten million baht in prize money (from sponsors) to gambling on the English Premier League Football!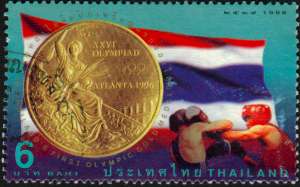 And talking about the English Football League! What about the story a couple of years ago about the 3 Thai football stars who went to train at 'Everton FC' hoping to get a place in the first 11. No such hope! The lads, whom on being sponsored by Beer Chang, decided to spend all their pocket money on shopping, girls and bars in London in the space of 3 weeks instead of the allocated six months! Pennyless, two of the heroes, pleaded to Beer Chang and Everton FC for a second chance (and more spending money….of course) What farce anyway! 2 of the lads, on arriving at Don Muang Airport a few months later, complained bitterly to the Thai media along the lines of "Darned friggin Everton FC! They didn't give us any opportunity to play in the first team but instead expected us to help the laundry staff with the team's washing!"
While PM Thaksin has made the news recently by selling off half the country to Singapore, it reminds me a couple of years ago when our beloved PM had his heart set on buying into Liverpool FC! The TV cameras were soon showing coverage of Thaksin, sporting a groovy Liverpool FC shirt, cheering on his 'Anfield Boys' like he was some life-time supporter! On being asked by some reporter to whom his favourite Liverpool Football Star was, Thaksin was supposedly to have replied "What a darned tricky question! There are just so many to single out one, but……that guy with the number 8 shirt can swurve the ball well" What another complete farce! The nation's tax-payers were soon up in arms in relief when Thaksin finally pulled out from such ambitiously expensive plan.
Now, beyond a doubt, the world's most famous sporting star sporting Thai blood is golfing legend – Tiger Woods. The only problem here though, is that poor old Tiger seems to have some kinda chip on the shoulder about being half-Thai and avoids (like the plaque!) having anything whatsoever to do with Thailand! Tiger even made the national sports authorities of Thailand fork out a million bucks before he would take part in the Johnny Walker Open a few years back!! After that, half the country's Farang ex-pat population were raging mad when the Thai government planned to have a ceremony and award Tiger (who had hardly even set foot in the country before) Thai citizenship and a diplomatic passport! Being as cool as cat, Tiger refused the awards and got lambasted by the press after he allowed Kasertsat University just 15 minutes of his precious time to bestow upon him…. an honourary Phd. As for Tiger's mom, I haven't slightest thing good to say about her but……"She's darned good at forgetting her roots!"